Get Healthy Today with Drug-Free, Non-invasive Chiropractic Care
From chronic back and neck pain to headaches and arthritis, chiropractic adjustments are an effective pain management technique that require no drugs or invasive surgery. Everyone from young children to active seniors can benefit from chiropractic adjustments to feel their very best. Whether you are new to chiropractic care or have recently relocated to Alpharetta and need a new chiropractor, Windward Healthcare Center is a family-friendly, supportive wellness destination. We offer far more than just the basic chiropractic adjustments. Led by our Alpharetta chiropractor Dr. Lubow, we help unlock our patients' inner ability to heal, achieving better health through natural, noninvasive care.
Chiropractic Care Treats Chronic Back Pain, Whiplash Injuries, Headaches and More!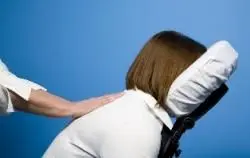 Our approach to chiropractic care is simple: we are committed to doing everything possible to help our patients lead long, active lives. This starts by addressing the root cause for your health problems. In many cases, a spinal misalignment is the underlying cause for your pain. Also known as a subluxation, a spinal misalignment is a partial dislocation of the vertebrae. Subluxations may cause you to experience pain and decreased mobility.
Minor subluxations often have no outward physical pain symptoms. However, they still impede the central nervous system's ability to communicate with the brain, which can lead to a host of problems. Unfortunately, by the time pain symptoms are evident, a subluxation may have been causing health problems for months or even years. This is why ongoing chiropractic care is so important for whole body wellness.
Chiropractic adjustments are a safe, effective option for bringing proper alignment back to the spine and alleviating nerve compression. In addition to relieving pain, many of our patients also notice an improvement in other aspects of their health. They sleep better at night, have more energy during the day, and report fewer low-grade illnesses and allergy difficulties. With regular adjustments, chiropractic care provides a host of benefits beyond simple pain relief. Adjustments keep your joints flexible, your spine aligned, and your body feeling its best.
Our chiropractor Dr. Jeffrey Lubow utilizes state-of-the-art chiropractic adjustment techniques at our Alpharetta practice. These correction methods are a safe, effective pain management alternative that may reduce or entirely eliminate the need for medication or surgery. Available adjustment techniques include Full Spine Diversified, Thompson Drop, Sacro-Occipital (SOT), Activator, Toggle, and Cox/Flexion-Distraction. Our chiropractic services are for the entire family, including specialized pediatric care.
Dr. Lubow is also trained in the Webster Technique, a specialized chiropractic adjustment technique for expectant mothers. Chiropractic care during pregnancy helps to alleviate pelvic pain and lower back pain while preparing a woman's body for a healthy natural childbirth. If you are an expectant mother and would like to learn more about the Webster Technique, our chiropractor is happy to answer any questions you may have during an informational appointment.
To learn more about how chiropractic care can help better manage your pain, schedule an appointment with our Alpharetta chiropractor today. Call us at 678-566-3030.